If you have been following this blog you have gotten a glimpse of my story. You have heard some of what drives me and what I am attempting to do daily in my work with people and some of why I started this blog. I want to take just a few minutes to make it more clear why I am taking the time to write about life and leadership and in some posts focusing on cliches.  
Part of my mission in life and in my work is to help guide people to their higher potential, deeper meaning, and means to living a more fulfilling life…BEFORE TRAGEDY.  This should help clarify why I said my Dad's death is the worst thing that has ever happened to me….and the best.  I simply can not imagine that I would be half of who I am today without this tragedy and the forced opportunity to grow. Notice I say opportunity because not all make the choice to grow from tragedy.  It is because of my experience that I feel compelled daily to push people to new heights. I know sometimes I push people hard, but my intent never sways and my reasons for doing so are deep and very real. I have in several instances warned you in this blog, "Don't believe me, you will when the 'day' comes."
For Kelly, one of my family's friends and a dedicated reader of this blog, the day I refer to almost came just a few days ago.
At 3:20pm on Tuesday Kelly posted this on her Facebook page:
Decided to take a different way home from Pottsville and enjoyed some of the most beautiful sights.  Lakes, farms, wineries, & even cows running.
At 5:25pm the same day Kelly's Mom posted:

I want to thank God for his protecting power.  Kelly was driving home from Pottsville today, and as she was going around the bend another car crossed the line and hit her head on….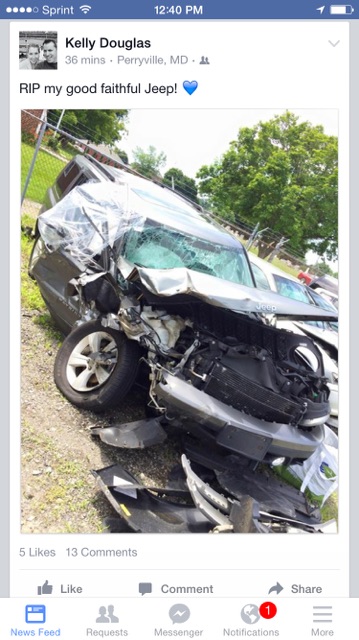 A foot to the left or right, a few more miles per hour, or the airbag failing to open and this post could have been about Kelly's funeral. Please notice the tone of Kelly's post…she was actually putting action behind the cliche "Stop to Smell the Roses. In an instant, life can change.
Enouph said.
I am happy to report Kelly is home safe with her loved ones. She suffered a broken wrist but was given an opportunity much like I have talked about in this post. If I know Kelly at all, she will be one to live a "richer" life because of this happening and continue to not take things for granted…perhaps even more so now.
Think back to one of my first excercsises I asked you to do….List the best and worst things that have happened to you. Will you actively pursue a better life? Will you become a more empathetic person? Will you create deeper connections with people of all races? Will you view hardships as opportunities to grow? Actually, will your two separate lists become more unified. I am calling for action. And this post is reminding you why I am.
Also remember my post, "Got Something to Say". I had something to say (below) to Kelly after she commented on my blog and I sent her the below e-mail just two days before her accident…I am glad I did.
Kelly,
I truly appreciate your comment on my blog. Why? Because it's from YOU and I know you get that journey of finding self and working through insecurities. Angel as my witness, every time I leave from being in your presence I comment to her that you are a good person with the right intentions, you get it, and are a joy to be around.
Much love!
Short post. No rocket science. No magical wise words.
This is simply a suggestive and powerful reminder. And, more clarity on what drives me in my work and to write this blog…BEFORE TRADGEDY. It took tradegy for me…please don't let it take that for you.
Stay True,
Ted
P.S. Kelly, healing energy coming your way and thank you for allowing me to use you as a reminder to all of us to actively pursue much of what this blog represents. I am sorry you experienced your accident but thankful you are alive and have been presented a gift in disguise.
To all, please sign up for this blog below and share this post so we can continue to grow this platform. It is growing! Last week on one day we received 3,700 hits! And, the last post received just over 2,600 hits. We are on to something…please continue to travel with me and invite others to do the same.