….But no longer can you be my wings.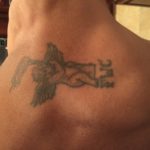 Within the year of losing my father almost 20 years ago I designed and got this tattoo on my shoulder.  It represents my last words to him, "I will carry your torch", him holding onto that torch represents his will to live and beat cancer, and him being an angel on my shoulder.
4 years ago after my first son was born, I went back to the tattoo parlor and got the torch lit.  Although you can't really see it because I am brown skinned, I colored the flame in with red and yellow and went home and told my wife that I am now ready to carry his torch and be a great father.
It felt powerful at the time.  It was emotional.  And, it was a lie.  I told myself that I was ready to fly.  But I was still mentally using my father's wings.
Continue reading "Dad, You Can be the Wind Beneath My Wings…"