…and reflect on a few lessons learned since the inception of my blog.
Many Requests…Many Fears…17 Years.  It's Time!
That was the title of my first post.  I was nervous.  Would anyone want to read this stuff?  I was surely going to alert people, some of who I didn't even know, about the inner workings of my being, my insecurtites, my story, and my view on life and leadership.  And, that was unnerving to say the least.  I said to my wife, "It would be cool if one day I had 100 people plugged in."   Well, this is my 20th post and some folks have plugged in…blog stats from today.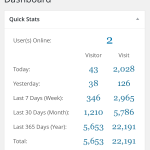 22,000 hits!  I am humbled and pause to "smell the roses".  My "roses" today are you, my readers.  The ones who have shared it, I thank you for I have not promoted this on Facebook.  But mostly I want to simply say thank you for traveling this journey with me.  I have received coutnless e-mails with deep insights and thought provoking additions to my posts.  While I still would like to see more interaction from all of you on the comments section (you all have so much richness to add to this platform), I fully appreciate the ones that have commented and e-mailed directly.  While my intent has and always will be to promote change and spark deep thought,  I selfishly have learned some things in this short 6 months.  I wanted to share a few of these lessons with you today.
~  I have been challenged to Stay True several times in the past 6 months. How?  Several people have approached me about monetizing the blog.  Was I intrigued? Yes.  Was I flattered that they thought it was good enouph to monetize?  Yes.  Will I monetize this blog?  No.  Something like this was a test of my mantra for me.  What has been presented to you in the past months that may seem sexy at first glance but ultimately would take you astray from your deeper goals/purpose and true intent?
~  I am not a celebrity.  I don't have a marketing team.  Not a pro athlete.  I am just a dude.  A dude with something to say with the right intent. Look, I am not here to tell you that you can be the next president or that you can change the world (remember the starfish story).  I am telling you that you can have an impact on people if you choose to.  I am also telling you to define what your "stars" are before you start reaching for anything.  My "stars" were simply to get people to think about some deeper things concerning life and leadership…maybe 100 people 🙂 This blog has allowed me to remind myself of my core beliefs and values.  It was an unintented result that I am extremely grateful for.  Social media folks would laugh at 22,000 hits.  I bet they wouldn't lauph at the deep e-mails I have received letting me know how my words have lifted them up or affirmed what is inside of them. My point, go out there and find your voice and share with one or many.  We all have something to say that some set of ears needs to hear.
~  It ain't easy going vulnerable but it is healing.  I have had knots in my stomach sending out many of these posts (My wife would verify this).  But by the end of each day there was a feeling of relief.  A weight lifted.  A sense of healing.  I was one step closer to my truth.   I know for a fact that being vulnerable is something many of us struggle with because I still address it almost daily in my work.  Lesson, allow yourself to be vulnerable.  I think you will be surprised with the results.  I have been.
~  This last one is very real and deep for me.  So deep that I may have trouble articulating it, but I will try.  I have referenced my Dad in several posts.  I have let you know that his death was the worst thing and the best thing that has ever happened to me.  I can't put into words how much I miss him.  How much I honor him.  How much I wish I could see him hold my sons.  How much I still feel like his young son wanting to hear him say he is proud of me.  He is and always will be a guiding force in my life.  In my first post I said I can only hope he is proud of me.  Today I know he would be.  Why?  Because I realized through writing this blog that I have been giving him too much credit.  You probably are reacting the way I felt when I first realized this.  Like, damn that was rude, dishonoring, arrogant.  Let me explain.  I often preface things I say to people with "As my father told me…"   Only to realize later that he never said that…that was actually my original thought.  My father instilled many deep lessons in me but he also challenged me to think for myself, be powerful and to Stay True.  However, because I haven't thought my words were good enouph, I have qualified them by inserting my Dad's name….a loving family man and brilliant college president.  Therefore making my words worthy of listening to.  He taught me how to ride a bike, and now, at 44 years old, having lost him 17 years ago, need to take off the training wheels and ride own my own.  Even if it means I feel scared, unbalanced and eventually skin my knee.
So….
Dad, I am going to ride on my own a little bit more.  I have come to believe this is what you would truly want.  I appreciate your light continuing to guide me but I can't give you the credit for my evolution as a father, husband, trusted advisor and friend.  If I continue to do so I will not fully evolve into the authentic man you want me to be. This is not easy for me. It's almost like I feel like I am letting a piece of you go or not honoring you the way I should.  However, I will honor you by continuing to evolve and never will I shed your light.  I will forever reach for the "stars"…the ones you taught me were worth reaching for.  And one day, when my work as a husband, father, and trusted advisor is done, one of those stars will carry me to you.  I love you.
I no longer hope my father is proud.  I know he is.  No arrogance behind that….pure humility.  I have been humbled by this blog and the experience it has given me.
I thank you for plugging in and only have one request… Take the lessons above to heart and add more comments to this platform so we can all learn from you.  I know I want too.
P.S.  Talk about Ted's Truth…I told my wife to read my draft, as I always do, and we just shared a deep cry in our kitchen with our boys running around.  She gets the gravity of my above words and I love and appreciate her for that.
Stay True,
Ted