REPOSTED FROM MAY 2015…Sadly even more relevant a year later.
And, sometimes it is.
I had said that I was unsure how the topics of this blog would unfold.  I surely did not think I would be writing about race this soon into starting this platform.  Baltimore is my hometown and I feel compelled to touch on the controversial topic because of that.  Well, to be a little more transparent, it is a topic that has affected my life and my being in profound ways so without a doubt this will not be the last time you hear from me about it.  And, I think, so much of it is in fact BLACK vs WHITE.
As I before mentioned, I was trans racially adopted.   I was so confused growing up.  So many people had told me that black and white people were so different.  That they innately did not get along.  I suppose I noticed that there were neighborhoods and schools that were a majority either race as evidence.  I surely experienced racism not being allowed into the homes or pools of friends I played outside with.  The N-word rings in my ear…still.  Or, from black people calling me a "sell out", "oreo cookie", or "soft".   It was like I had to choose a side and when I did I would lose….externally and internally.
Deeply confused.  Why?  Because I would go home every night where black and white people loved each other, looked out for one another, and accepted one another.  So who was right?  The many people outside of my home or my family?  I think the Capshaws were right.
I am not dismissing the complexities of the topic of race or the broken relationship between the police and the black community.  I am not dismissing history, socioeconomic factors, or deep rooted failures in the "system".   I am simply saying we have focused on the differences and not the similarities in all of us as human beings.
Perhaps if we unwind the complexities and focus on the basic black and white divide we may get somewhere.  I ask, and please be honest with yourself, have you ever looked at a black person and were scared?  Have you ever looked at a white person and assumed they did not have your best interest?   I have done both.  I didn't even know them.  I was wrong.
I was given a gift when I was transracially adopted in 1971.  Did I always think that?  No.  But today I realize that I have had the opportunity to meet so many wonderful people, black and white, because I see things impartially.  I have also seen many people miss opportunities to meet wonderful people because of prejudices.  I suppose for some it is easier to see the differences than to remember that at our core there are far more similarities.  Because of my experiences in the middle I believe I have earned the right to say, STOP.
Please stop.  We are all human beings and strive for the best life possible, to be loved, to achieve, and to be accepted.  I worked in Fredrick Douglass High School (where the riots started) for three years.  I looked in these young people's eyes daily, I hugged them, I broke up fights, I nurtured their insecurities.  I also, years ago, directed a summer camp that was majority white kids…I did the same thing.  All of these young people wanted the same thing….to feel included, cared for, and to be given a chance.  My point…something happens to the innocence of kids of all races that perpetuates our current divide.  WE happen, society happens, negative experiences happen…it becomes Black vs. White.
Evidence.  Have you ever watched a small child navigate a computer or tablet.  They are fearless.  But as adults we become afraid of hitting certain buttons because we think we will break something.  Or, how about watching black and white kids playing on a playground together…smiling, sharing, hugging.  But then as 16 year olds they sit at different, segregated tables in the lunch room.
I am on my knees asking for us to go back to the basic human needs of love and acceptance before we tackle the complexities of the debacle we are in now.  I could ramble on but simply want to bring this back to the basics.  There is a divide and it disregards basic human needs….we all know them because we all were kids once and frankly, as adults, we want the same. It's us.
When I was about 14 or 15 years old I was about to get beat up by a group of white guys in the front of the Hollywood theater in Arbutus.  By chance, my older, white brother drove by with his friends and got out.  He stepped in and said something to the affect, "that is my brother, what's up".  Their response was, "no he isn't".  My brother then said, "Can't you see it in our eyes".  I am not sure my brother even remembers this even though I spoke to it as one of the most profound moments in my young life when I delivered my best man's speech at his wedding.  Profound because it was clear to me that people did not see us as brothers because of our different skin color but even more profound because I knew at that moment that there was something bigger than that….the love and care my brother had for me.  He put a stamp on it…I was unequivocally his brother.
When my wife got pregnant with our first son, Jaxon, I secretly could not wait to have a biological child that resembled me….a brown skinned son.  I thought it would be easier on him and on me.  God had a different and deeper plan for my family.  Look deeper in his eyes…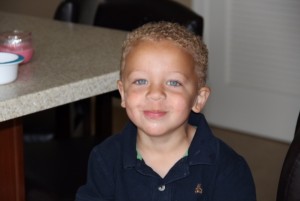 I will one day have to explain to him why his Dad is brown skin with brown eyes and he has sandy blond hair, blue eyes and fair skin.  What a lesson for me…and for you.  I realized quickly that while I thought I wanted a child that resembled me I simply wanted the connection of a father and a son.  A connection that had nothing to do with the color of our skin, eyes, or hair.  The truth is, he will resemble me in deep ways and if anyone was to look deep into our eyes they could not deny that we are father and son.
There is heavy accountability on both sides of this racial divide.  No matter how that accountability is weighed or how we got here, the fact is that today both sides have work to do.  And it starts with going back to the basics and resetting our intent.
In the name of my sons, Jaxon and Maxwell, I am asking, actually pleading, that we all choose to look deeper in the eyes of the people we encounter and look for the similarities, not the differences.  It's real, the black/white divide.  And, the similarities are real as well.  Until we face that, we will never make true strides in unwinding  what has become an extremely complex phenomenon today.
I end with a quote by Miller Williams…."Have compassion for everyone you meet, even if they don't want it.  What appears bad manners, an ill temper, or cynicism is always a sign of things no ears have heard, no eyes have seen.  You do not know what wars are going on down there where the spirit meets the bone".
Will you peel back all your emotion and judgements and have more compassion today?
Stay True,
Ted
Please be sure to sign up for my blog to ensure that you get new posts as they go up.  Simply put in your e-mail address and you will be set.